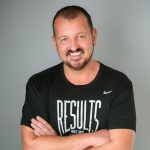 Alwyn Cosgrove is legendary Coach, Educator and Presenter in the fitness industry. Born in Scotland and initially exposed to fitness training through an intense competitive sport martial arts background, Alwyn Cosgrove began reading and studying any training related material he could get his hands on. This led Alwyn to formal academic studies in Sports Performance at West Lothian College and then progressed on to receiving an honors degree in Sports Science from Chester College, the University of Liverpool.
He is also the Co-owner of Results Fitness in Santa Clarita, California with his wife Rachel—twice named one of the top ten gyms in America by Men's Health and Women's Health magazines. In addition to their gym, he and Rachel are also owners of a fitness professional consulting company, Results Fitness University.
As an Author, Alwyn is a sought after 'expert' for several of the country's leading publications including a regular contributor to Men's Health and Men's Fitness magazines, Elite FTS, T-Nation, Bodybuilding.com and more. He has also co-authored several books along with Lou Schuler in the "New Rules of Lifting" series, as well as "Strong".
Links:
https://linktr.ee/alwyncosgrove
https://www.resultsfitnessuniversity.com
Facebook: https://www.facebook.com/CoachAlwynCosgrove/
X: https://twitter.com/alwyncosgrove?lang=en
Instagram: https://www.instagram.com/alwyncosgrove/
Podcast: Play in new window | Download