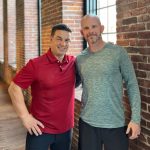 This week's episode is a little different as Eric and Mike run the show without a guest to discuss the "Fitness Client Journey". They discuss all aspects of the fitness and personal training industry from both the professional side, as well as from the perspective of the client, including:
-Client Niches vs Training Niches
-Training Outliers and Getting Lucky
-It's Not About YOU
-The Cheesecake Factory Menu and Choosing Exercises
-What Makes YOU Special?
-Understanding Empathy as Coach or Trainer
-The 2-4-4 System for Programming Warmups
-Are You a "Scratch Kitchen" or "Chipotle" Coach?
-Dynamic Programming
-Don't Just Assign Exercises – EDUCATE!
-Hiring a Pro vs Doing It On Your Own
-Are You the "Tuesday Guy" or the "Friday Guy"?
For more information on the Principles of Program Design and all of our courses, visits www.principlesofprogramdesign.com or to get our FREE eBook and LIVE Webinar go to www.principleswebinar.com
Podcast: Play in new window | Download