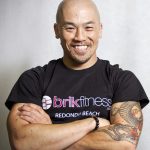 Brian Nguyen has had a very unique and successful career in the fitness and performance industry. After graduating from UCLA where he studied Sports Medicine, he went on to become an assistant athletic trainer with the Jacksonville Jaguars and then became the head trainer and strength coach for the Los Angeles Avengers in the Arena Football League.
Switching paths into the fitness world, Brian started BRIK Fitness in Redondo Beach, CA and began to build a celebrity clientele that has included big names from Mark Wahlberg, Amy Adams, Anthony Mackie, Mila Kunis to Will Farrell.
In 2017, he started "Elementally Strong" and shares his wisdom and passion for functional fitness as a consultant for organizations including TRX, Functional Movement Systems, Perform Better, Everlast and UnderArmour.
Links: Instagram – @dragonmasterbri
Podcast: Play in new window | Download